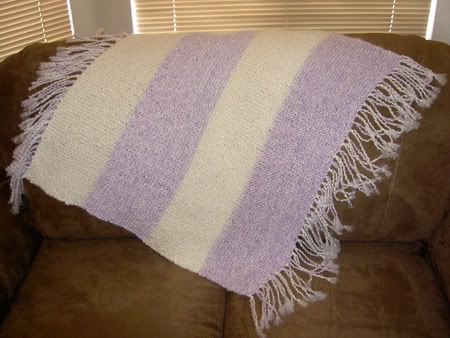 Project Name:
Garter Stitch Striped Baby Blanket
Time Taken to Finish:
3-4 weeks
Type of Yarn Used:
Lion Brand Homespun Baby in Soft Violet and Snow White (Homespun Baby may be hard to find in stores...it was for me, anyway)
Amount of Yarn Used:
4-5 skeins, one skein for each row (had to use a little more for some rows because one skein was not enough to have them match the width of the previous rows)
Needles Used:
US size 10 needles
What I Liked About the Project:
No purling. My last baby blanket was in stockinette and each purled row seemed to take twice as long as a knit row.
What I Didn't Like About the Project:
Even after knitting swatches to determine how many stitches to cast on, I miscalculated and made it way too wide. I had to pull it apart and start over because I would not have had enough yarn to finish it at that width. Also, because the yarn unravels very easily, I had to tie a knot at the end of each piece of fringe. That took quite a while!
This project was knitted for my friends April and Mike, who are expecting. I actually knitted it before the socks in my last post, but I wanted to make sure they received it before I put up any pictures.
I wish the Homespun Baby yarn was more widely available. From looking around on the web, it sounds like Lion Brand may be discontinuing it. That's too bad, because there are no equivalent baby colors in their regular Homespun line.