This past weekend we took a little trip over to San Diego. Because of my obsession with
Master and Commander: The Far Side of the World
I couldn't miss the HMS Surprise at the
Maritime Museum
! I wasn't too sure what sort of exhibits they had on the Surprise but I had my fingers crossed that they would have some costumes from the movie. I got lucky! Behind Plexiglas in a tiny room they had four uniforms, belonging to Jack Aubrey, Mowett, Blakeney, and a marine. Sadly they seemed a little forgotten. There weren't any signs or labels to indicate that they were from the movie and they were all crowded in a corner. Jack's costume was hidden behind all the others; all that could be seen was his hat and collar!
I took advantage of the opportunity and spent about an hour sketching what I could see of each costume. I also took a few photos but the glare on the Plexiglas kept them from turning out very well. I thought I'd post my photos and sketches here in case anyone needs some reference material when trying to make their own costume. FYI, I've left all of my notes on the sketches including my spelling mistakes and some stuff that's unrelated (like the names of the guns on the Surprise!). If you need me to translate any of my writing please let me know.
(By the way, if you're serious about making costumes from the Master and Commander movie, you need to buy
The Making of Master and Commander
by Tom McGregor. I just bought it and I wish I had it when I made
my Jack Aubrey costume
because it has lots of great reference photos!
*See the update at the bottom of the page for another great reference book
.
Second Lieutenant Mowett Uniform
This appears to be a Lieutenant's uniform, and I decided it was Mowett's because he's the only Lt. I remember that wears a top hat. You can see a photo of Mowett in hat and uniform on page 102 in the Making of M&C book.
Midshipman Blakeney Uniform
Since this midshipman's uniform had the right arm pinned up it could only be Lord Blakeney's!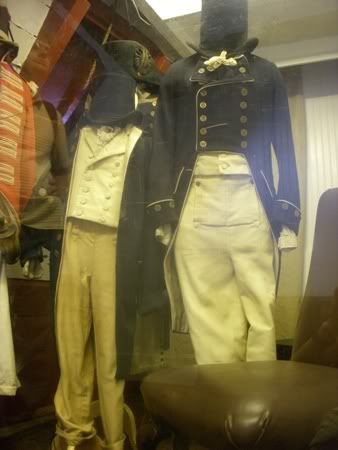 Blakeney and Mowett Uniforms
Blakeney and Mowett Trousers. Mowett's have stirrups at the bottom (you can see them better in my sketch).
All that can be seen of Captain Aubrey's Uniform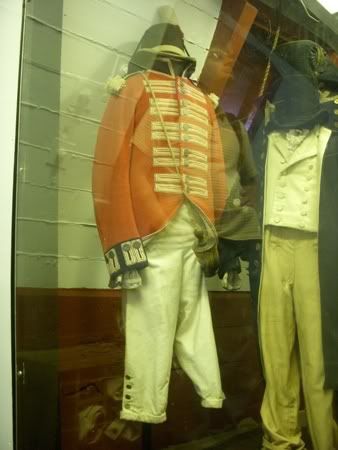 Royal Marine Uniform
Unfortunately the hat is about the only thing that can be seen in detail on Jack Aubrey's uniform. I don't know which character wore this Marine's uniform. It's not Captain Howard because he wears a different hat. The edging on the Marine's uniform is cool, it's white with a red stripe and a blue stripe (I put asterisks on the sketch to mark where this edging was used). There's a good photos of a bunch of Marines in uniform on page 86 of the Making of M&C book.
Sailor's Outfit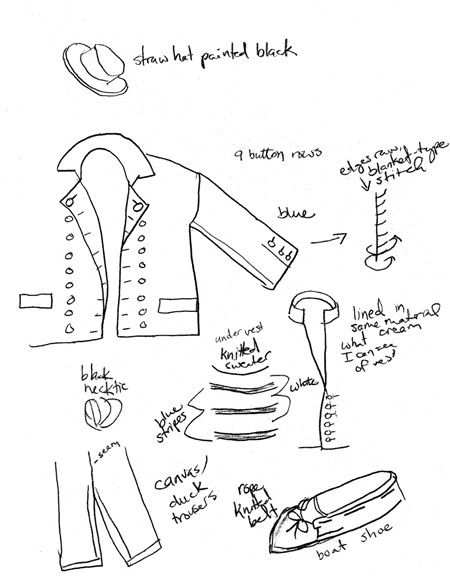 This sailor's outfit was not in the same room as the other costumes. I don't recognize it so it might not be from the movie (it could be a real antique outfit for all I know!). I thought it was interesting that the edges of the jacket weren't turned under and hemmed. Instead they've completed all the edges with an oversewing stitch (I couldn't think of what it was called when making my sketch so I called it a blanket stitch).
*Update 7/12/09:
When visiting the National Maritime Museum in Greenwich this summer, I ran across this amazing book:
Dressed to Kill: British Naval Uniform, Masculinity and Contemporary Fashions, 1748-1857. It's written by Amy Miller who is a curator at the NMM. The book describes a number of uniforms in the museum's collection with front, back, and detail photos of each as well as line drawings showing their pattern construction.
I remember seeing it on the internet while researching my Jack Aubrey costume but there was no indication in the very brief Amazon description that it contained all these amazing reference photos and drawings.
If you are interested in making an authentic Royal Navy uniform you definitely need this book!
Update 8/16/11: I was checking the Amazon link for Dressed to Kill and saw that it is out of print, with resale copies going for over $400. Ouch! Same thing over at Amazon UK. The price I bought it at was
£
15 (so about $30). It is still listed at that price on the National Maritime Museum's list of publications but with no option to buy. If you are desperate to have it but can't pay the insane resale price, my only suggestion would be to contact the museum to see if they still have any copies.
(Oh and thanks, Amazon, for offering to buy back my copy of Dressed to Kill for $5.52 so you can resell it at $424.99. That sounds like a great deal!)