Update: I've put together a free PDF pattern for this doll that you can download and print. It hasn't been tested so please let me know if you find any errors. And of course I would love to see any dolls you make, just post a link in the comments!
Well here it is, the top-secret project I've been working on for months!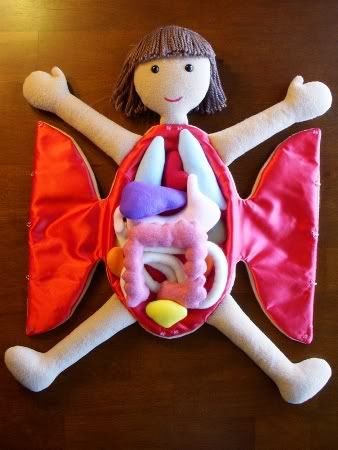 A little morbid, isn't it? It's an anatomy doll, made for a friend who is a medical student. Here's the doll wearing her hospital gown: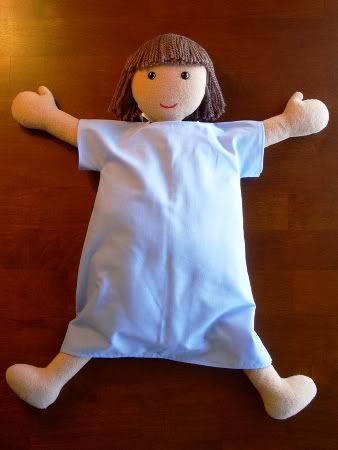 A close-up of the insides: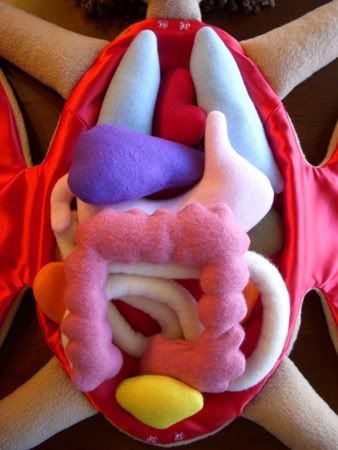 Here are all the organs:
The organs are the lungs, heart, liver, stomach, spleen, pancreas, small intestine, kidneys, large intestine, and bladder.
A close of up the face:
The back of the hospital gown: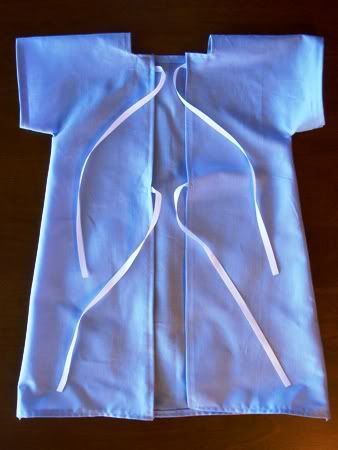 Project Name:
Anatomy Doll
Time Taken to Finish:
5 months, off and on

Pattern:
Made it myself, you can find it
here
Notes on the Pattern:
My patterns are free and may not be sold. Please do not reproduce or repost patterns or instructions from CraftyCattery.com without my permission. For information on selling items created from my patterns, please view the
FAQ
.
Materials Used:
body and organs are made of fleece, hair is yarn, hospital gown is cotton
What I Did:
I've been working on this doll intermittently since June. I started out with the organs since I needed to know how much space they would take up before I could make the body. Once I had them made I created the body to fit them. There are magnets in each of the organs and the inside of the body was lined with metal washers so the organs would stick to it. There are also magnets in ends of the stomach, small intestines and large intestines so they would stick to each other.
I haven't ever sewn a doll of any kind before so this was a challenging project for me! With all the experimenting I did, by the end I had created every part of the body at least two or three different times. But the final product turned out well and the medical student who got it seemed to like it so it was definitely worth all the effort. :)