I just bought a really neat sewing/crafting cart at Walmart! It goes from this: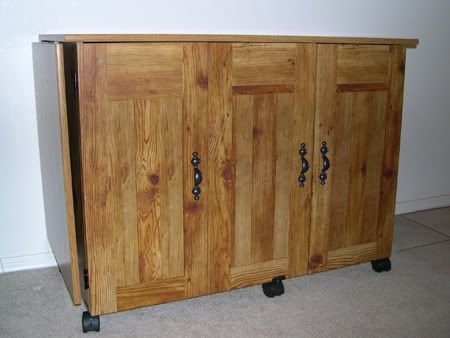 To this:
We saw it advertised in Walmart's Black Friday circular where it was priced at $75. It was listed as "Sewing Craft Table." I really wanted it but I couldn't get excited about having to fight people on Friday morning to get it. However, I went to Walmart this morning and they already had it at that price! If you're interested, I found it in the fabric department on a shelf below the sewing machines. It's manufactured by
Sauder
and the product number on the box is 9707-150. Walmart also has it
listed online
where it's currently selling for $97.42.
It took me about 2 hours to assemble by myself. Compared to other self-assembly furniture instructions I've tried to follow, these directions were detailed and well written. Also, all of the pieces of wood had identifying numbers stamped or stickered onto them so I didn't have to guess which piece was which.
Here's the cart with all my supplies in it: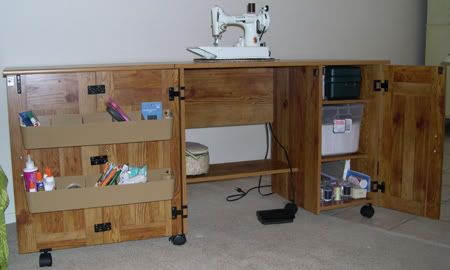 You can even store your sewing machine on the little shelf in the middle when you're not using it:
That's the only thing I find awkward about it - it's difficult to put my machine down there, and it's a featherweight. Someone with a heavier machine might have trouble getting it down there without dropping it.
I'm so glad I found this - I no longer have to do all my sewing on our living room floor! Now I can wheel the cart out when I need it and push it back against the wall when I'm done.
Here's Lucy checking out the cart: