In honor of the release of the final Harry Potter book this year I decided to carve Professor Severus Snape (as portrayed by Alan Rickman).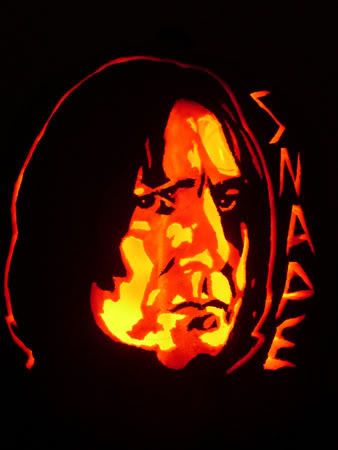 Here's the unlit pumpkin, just so you know it's not a Photoshop job:
Last year I did a
Jack Sparrow Pumpkin
. I think this year's is a bit better. One reason may be that I followed some
online instructions
on how to make a pattern with Photoshop (instead of making up my own by hand). Another reason may be that I used a Funkin (an artificial carvable pumpkin) instead of a real pumpkin. The carving wasn't really any easier, especially since the "flesh" of the Funkin was thick, hard foam. To get the intermediate shade (orange), I had to cut open the back of the pumpkin and spend several hours with a Dremel tool to make the "flesh" thin enough for light to shine through. Despite the extra work, I think the Funkin gives a cleaner result and best of all it doesn't rot!