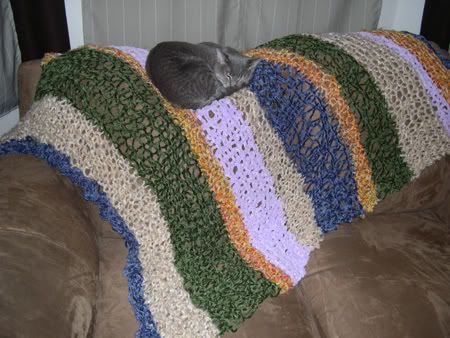 Project Name:
Ugly Blanket
Time Taken to Finish:
4 days
Type of Yarn Used:
All my bulky weight leftovers, mostly Lion Brand Chenille and Red Heart Light and Lofty
Amount of Yarn Used:
Hard to say...probably the equivalent of 3 to 4 skeins
Needles Used:
US size 35 needles
What I Liked About the Project:
The big needles made it a very fast knit for the size - I had originally started out with size 13 needles and only managed to knit about 5 inches in two days! At that rate I probably wouldn't have finished it before Christmas, so I bought some bigger needles and started over.
What I Didn't Like About the Project:
The big holes in the Lion Brand Chenille rows (blue and green). That yarn seemed to knit more loosely than the Red Heart Light and Lofty (cream and orange) and the Lion Brand Baby Chenille (purple).
I decided to make this blanket when I was trying to think of a project that wouldn't involve small needles (they give me hand cramps) and would use up some of my leftover yarn. I think the mixture of clashing colors and its gaping holes make it obvious why I call it ugly. But it's soft and (mostly) warm, and Lucy enjoys getting her claws into it.