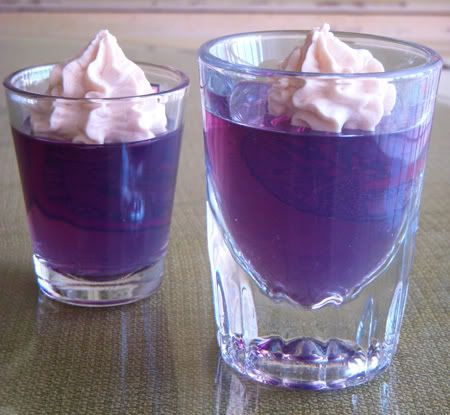 What's a PB&J Shot? It's a grape Jell-O shot topped with a peanut butter whipped cream. If you're feeling adventurous you might want to give it a try!
Cathy's PB&J Jell-O Shots
Ingredients
- grape Jell-O
- boiling water
- cold water
- vodka (optional)
- heavy cream
- peanut butter (soften by stirring quickly)
- powdered sugar
1. Make Jell-O according to package directions. For alcoholic shots, substitute vodka for half of the cold water.
2. Pour Jell-O mixture into small plastic Jell-O shot cups. Chill in fridge until firm.
3. Beat 1 cup heavy cream with beaters until soft peaks form. Fold in 3 tablespoons softened peanut butter and 1 1/2 tablespoons powdered sugar. Beat a few more seconds until well mixed. Give it a taste, if it's not sweet enough add some more powdered sugar.
4. Top firm Jell-O shots with a dab of peanut butter whipped cream. Serve.
(This recipe was created in honor of Pam Beesly and Jim Halpert from NBC's "The Office." Their nickname as a couple is "PB&J"!)