My husband and love to collect rocks and minerals, so instead of buying flowers and candy for Valentine's Day we spend our money at the Tucson Gem and Mineral Show! Here's a couple of things we purchased this year:


Chrysocolla with Druzy Quartz from Chile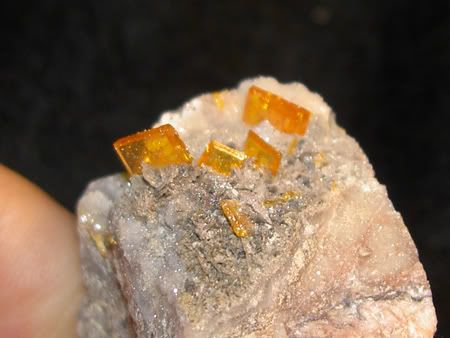 A tiny sample of Wulfenite from the Rowley Mine in Arizona
And a couple of things we've purchased at other shows:
Wulfenite with Druzy Quartz from the Finch Mine in Arizona (my favorite wulfenite locality - doesn't it look yummy?)
Some purple Fluorite on Calcite from Illinois
This year we also purchased two fantastic prints from paintings of minerals by artist
Fred Wilda
. One was of
rhodocrosite
and the other was
wulfenite
. We liked them so much that we're thinking of buying one more, maybe a fluorite.
This year our mineral haul was a little disappointing as we had trouble finding specimens that we liked at a reasonable price. The satellite shows at the hotels in Tucson generally had good prices but they all seemed to have the same stuff. The best selection was probably at the Inn Suites hotel. But the biggest disappointment this year was at the main show at the convention center - the prices were RIDICULOUS! I would say that out of the hundreds of booths present there were only 4 or 5 that sold minerals at a reasonable price. For us a reasonable price would be up to $20 for a decent display sample and up to $50 for something super nice. The minimum prices at most of the mineral booths were in the $100s and some had nothing under $1000. I would understand the prices if the minerals were actually spectacular, but we saw many examples of specimens similar in quality and size to ones we had purchased elsewhere for under $20 that were selling there for over $100. Next year we may skip the convention center and spend all our time at the hotels!