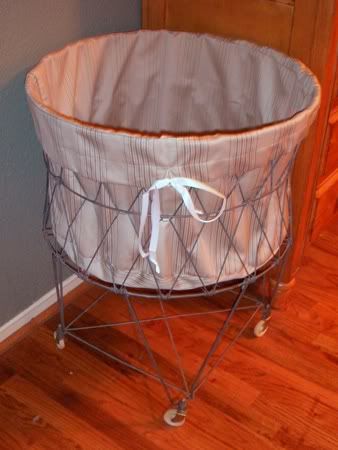 My friend bought this wire hamper years ago. She's been using it for laundry but didn't have a liner for it so socks and other small items were always falling through. After seeing a
similar hamper
being sold at Pottery Barn with a liner, she asked me if I could make one for her. Above is a photo of what I came up with.
Project Name: Antique Wire Hamper Liner
Time Taken to Finish:
2 days
Pattern:
Hand-drafted.
Materials Used:
striped fabric, thread, twill tape for the tie
What I Did:
Basically I made a cylinder out of fabric. The bottom is a circle and the sides were made of two flat panels sewn together. I folded over fabric at the top to create a space for the drawstring and so that the "good" side of the fabric would show when it was folded over the lip of the hamper.
What I Liked About the Project:
It was fairly simple and didn't take much time to do.
What I Didn't Like About the Project:
The hardest part was matching the stripes on the vertical panels so that the pattern would look continuous.