Last year I made paper dolls based on characters from my favorite television show, NBC's "The Office" (go here to print out dolls of Michael, Dwight, Pam and Jim).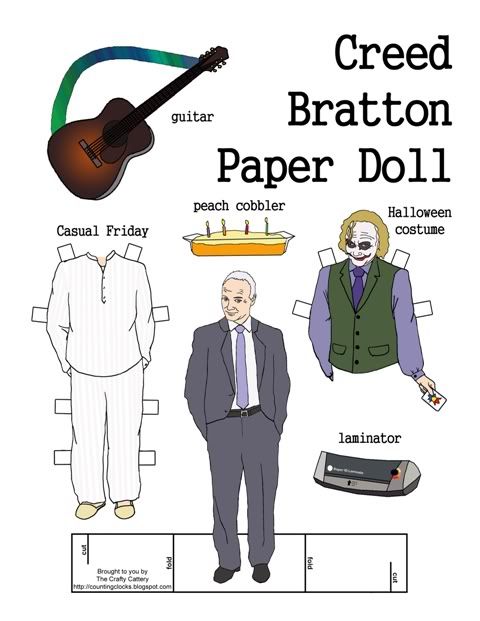 Creed Bratton Paper Doll (PDF)
Now I've added a new doll: Creed Bratton! And unlike the other dolls, Creed has two alternate outfits (his Joker Halloween costume and Casual Friday clothes) as well as three accessories (peach cobbler, fake I.D. laminator, and guitar).
Here are the instructions for the doll:
1. Open the PDF file containing the paper doll (above) and print the page out (the stiffer the paper the better - cardstock would be the best).
2. Cut along the outline of the stand, around the paper doll and around the outfits and accessories (you may have to use an X-acto knife to get all the details). Cut two slits in the stand along the lines that say "cut".
3. Fold the stand back along both lines that say "fold" then slide the two slits into each other.
4. Stand the paper doll up. You may have to gently bend the figures and the stand so they'll stand upright.