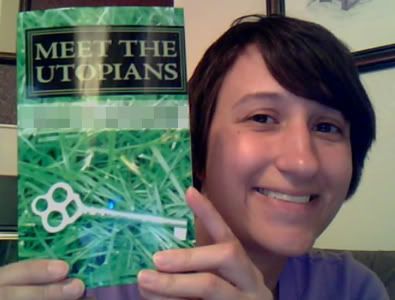 Last November I participated in
National Novel Writing Month
, an event held online every year where thousands of people attempt to write a 50,000 word novel in one month. I "won", which means that I did write a 50,000+ word novel in 30 days. One of the perks of winning was a free proof copy of my book from
CreateSpace.com
.
CreateSpace is an online self-publishing company affiliated with Amazon.com. It's free to get a basic account and publish a book as long as you do all the work yourself; you only pay for the actual printed copies. You upload a PDF of your book to the site, formatted exactly how you want it to appear in the final book including page sizes, numbers, etc. You create a cover for it, either by yourself or using one of their pre-formatted covers. For my book cover, I took a photo in my backyard (an antique key on some grass) and inserted it into one of CreateSpace's covers.
Next, someone at CreateSpace checks to make sure that your book will print correctly. It's a very basic check - mainly just to be sure that your PDF is the right size and nothing is going to be cut off on the edge of the page (they don't check for typos, missing pages or anything like that). Once your book has been checked you can order a proof copy. The cost depends on the size and page count of your book (mine was free thanks to NaNoWriMo, including free shipping!).
Your book is shipped to you, you check it over and if you're happy with it you can make it available for others to purchase at CreateSpace.com and Amazon.com. Or, if you're like me and you only want to have a copy for yourself, you don't have to make it available to purchase at all.
The hardest part of this (besides writing the book!) is formatting the PDF. It took me several days to get my book set up correctly. CreateSpace doesn't give you much help with the formatting, probably because they would prefer that you pay them to do it for you! So I used
this website from self-published author Lisa Shea
which goes through pretty much everything you need to know about printing your own book. She also gives her thoughts on the other two big self-publishing sites out there,
Lulu
and
CafePress
.
All in all I was happy with my free copy from CreateSpace. It was 224 pages long, which included my NaNoWriMo story plus a 43-page short short I threw in to make it a bit longer. I think the cover turned out nice, though you can see in the top photo that the front didn't turn out centered like it was in the second sample photo - it's cropped closer on the right side. Finally, the copy I got was a proof copy but the only place it said "proof" was on the very last page of the book. That's a good thing, because I was worried it was going to say it on every single page!