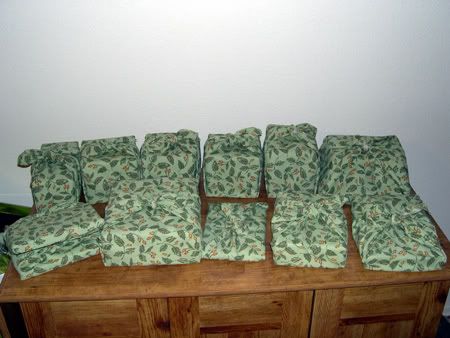 Prompted by an article in
Shojo Beat magazine
, I decided to use furoshiki to wrap gifts to my family this Christmas. Furoshiki, originally from Japan, are reusable cloth squares of various sizes that are used to wrap objects.
To make my furoshiki I used an inexpensive cotton fabric in a pattern that was not too Christmas-y, so they could be used again for other holidays or birthdays. I started out sewing them using
instructions
from a blog called Mommy Cooks. But hemming so many squares was taking forever (fold, press, fold, press, unfold, clip, fold, press, sew!) so I switched to sewing a straight stitch near the edge of the square and clipping close to it. Not as neat, but much faster!
I have also discovered that bandanas/handkerchiefs make good furoshiki for smaller items, though they can be a bit more expensive than making your own. You can find them at craft stores or even Wal-mart, which usually puts out Christmas-themed bandanas before the holidays in the purse section. At Wal-mart they're normally $1.00, but because they're not kept with the rest of the Christmas items in the store they often go unnoticed and there are usually a lot left by the time they have their 75% off after Christmas sales. I can pick up whatever they have left for $0.25 each.
To fold and tie the furoshiki, I followed an
instructional sheet (in English)
from the Japanese Ministry of the Environment. I then made an
easier-to-print version
of the instructional sheet (the original is white text on a green background) and included a copy when I mailed my gifts, so the recipients would be able to reuse the furoshiki.
As you can see from the instructional sheet I used the Otsukai Tsutsumi (basic carry wrap) for most of the gifts, but I was able to do the cool-looking Hon Tsutsumi (two books carry wrap) for one gift!