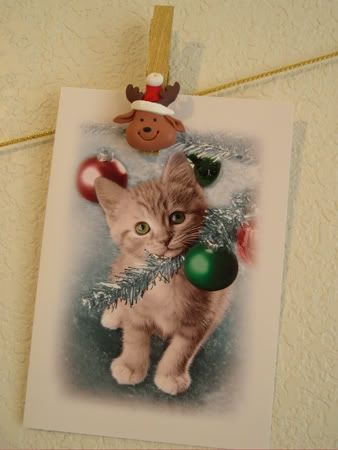 I made this hanging Christmas card holder Friday afternoon - mostly on my back patio, as you can tell from some of the photos in the instructions!
Project Name:
Quick Hanging Christmas Card Holder
Time Taken to Finish:
1 hour
Materials Used:
10 clothespins, 6-7 feet of decorative gold cord, gold spray paint, 10 miniature ornaments
Special Tools Used:
hot glue gun
What I Liked About the Project:
Super fast!
What I Didn't Like About the Project:
If I did it again I might use red or green spray paint (or both!). The gold doesn't stand out as much as I would've liked - it almost looks like I didn't paint them at all.
Instructions:
1. Spray paint the clothespins.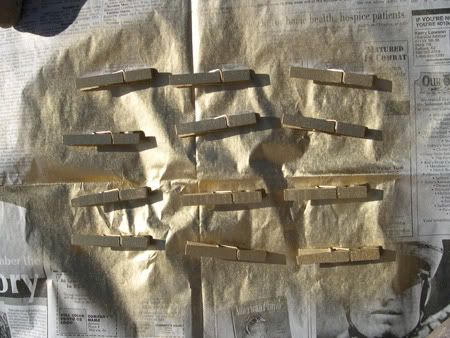 I wanted 10 pins for my card holder, so I sprayed 12 pins (in case I messed up). Feel free to make more if you want a longer card holder. Be sure to paint all sides of the pins and let them dry thoroughly.
2. Use the hot glue gun to attach the miniature ornaments to the clothespins.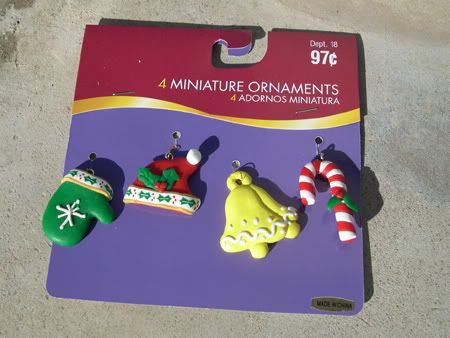 The ornaments I used
They look like they're made of Sculpey. If you can't find miniature ornaments you could also use fake holly or other small Christmas decorations. After removing the hangers from the ornaments, run a bead of hot glue down the back of the ornament and then place it on the clothespin (the mouth of the pin should be facing down). Once it is in place, press the ornament to the clothespin firmly and hold until it has cooled.
Ornament glued to the clothespin
All the completed clothespins
3. Tie the clothespins to the cord, about 6-7 inches apart. You don't have to tie them on, but if you're using a thin cord like I did they may slide around. If you do tie them on, make sure that the decorated sides of the clothespins are all facing the same way.
Clothespin tied to cord
4. Finally, tie a loop at each end of the cord and use thumb tacks or nails to hang your Christmas card holder from the wall!