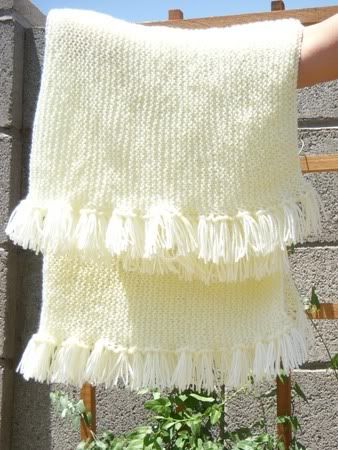 I just finished knitting this baby blanket for a friend who's expecting. It was simple garter stitch, but man, it seemed to take forever! This is my third baby blanket, you can see the first
here
and the second
here
.
Project Name:
Garter Stitch Baby Blanket
Time Taken to Finish:
2 months
Finished Size
: 27 inches by 33 inches (not including fringe)
Type of Yarn Used:
Red Heart Soft Baby in Powder Yellow
Amount of Yarn Used:
1 skein (I needed a little extra for the fringe)
Needles Used:
US size 10.5 needles
What I Liked About the Project:
Since it was garter stitch the knitting was easy.
What I Didn't Like About the Project:
It seemed to take forever to knit - I think it was because I was using such thin yarn (it was sport weight). For my previous two baby blankets I used bulky weight yarn which obviously knitted up much faster.
Instructions:
Cast on 100 stitches. Knit all stitches until blanket is as long as you'd like (I stopped at 33 inches). Add fringe to two sides - there's a good
tutorial for adding fringe
at Fiber-Images.com.
Here's a photo of the finished blanket, spread out so you can see the whole thing: