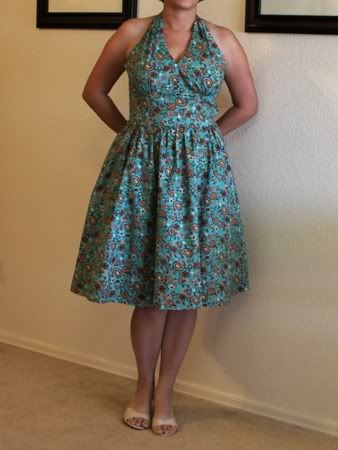 Project Name:
Halter Dress
Time Taken to Finish:
3 days
Pattern:
Simplicity 2884
Fabric Used:
Turquoise paisley cotton, orange cotton for lining.
What I Did:
I followed the pattern pretty much to the letter. The only thing I did differently was use cable ties for boning instead of the featherweight boning the instructions called for, because I don't have easy access to the featherweight boning where I live.
What I Liked About the Project:
The fabric was very cute. Actually it's the whole reason I made the dress - I saw the fabric and had to find a dress pattern for it!
What I Didn't Like About the Project:
The zipper is on the side instead of the back. If you look in the photo above you can see a funny bump in the dress at the waist on one side. That's the zipper. I don't know if I attached it wrong or if it's just bulging because the zipper doesn't want to lie flat. Either way, that really bothers me and is keeping me from actually wearing this dress. The only way I can think of to fix it is to move the zipper to the back or add boning to that side of the dress to keep things straight.