Yay! I finally managed to finish my mittens. Here they are:



And here is my entire matching set: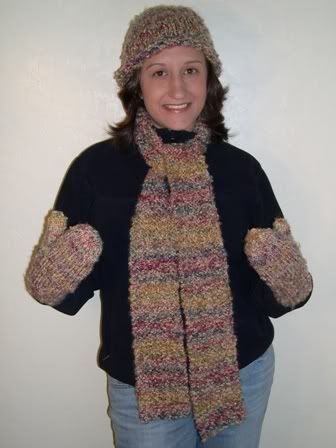 Mittens are so complicated (at least for me)! Since I almost never need mittens I doubt I'll be knitting more any time soon. The instructions I used were from
HJS Studio's website
- they call it their
Generic Mitten Pattern
(scroll down 1/3 of the page to see it). This is another pattern like the hat where you use your measurements and your gauge (stiches per inch) to knit - they do not tell you exactly how many stitches and rows to knit. I like this type of instruction because it makes it easier to use whichever type of yarn and size needles I want.
While I was knitting the mittens I also knitted a simple scarf for my father:
This scarf was knitted following the same
Loopy Garter Stitch pattern
used with my previous scarf. Since it is for my dad, I knitted 12 stitches per row instead of 10 to make it wider and made it 6 feet long instead of five. I also used a different style of yarn (Lion Brand Homespun in Colonial). This yarn was less bulky than the Red Heart Light and Lofty yarn I used with the first scarf. I started out knitting with only one strand of the Homespun yarn but I found that with the size 15 needles I was using this was going to leave big holes in the scarf. I ended up getting another ball of the same yarn and knitting with two strands of yarn held together throughout.
I'm now working on a baby blanket for a friend who is expecting. It will probably take me all of Thanksgiving vacation to finish. Next I'm thinking of making some kind of knitting bag - I'm getting tired of chasing yarn, needles, and other knitting bits around the house.